How Dalia Put a Big Yellow Comforter Inside a Tiny Blue Box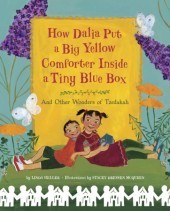 My newest picture book has just gotten a Starred Review from Kirkus. The reviewer wrote,"After she learns about tzedakah at the community center, Dalia comes home and creates a tzedakah box to begin saving for the center's project. She inserts a dollar from her birthday money and tells her curious little brother, Yossi, that the box holds "a big yellow comforter." With each new donation to the box earned from her gardening chores and lemonade sales, Dalia adds a butterfly bush and a banana cream pie. Yossi's confusion grows; how can these things fit in what is essentially a piggy bank? Dalia kindly explains how her money, pooled with the other center participants', will eventually buy all three for a lonely, homebound elderly woman. In joining his sister, Yossi learns that "Tzedakah means. doing the right things. It means thinking of others and giving them what they need." Dressen-McQueen's fully developed summer scenes in acrylic and oil pastel provide a vivid complement to the often-page-filling text, their naive, folk quality bringing great quantities of love and warmth to the tale. As vivid a demonstration of community as readers are likely to find." ages 5-7 This book is published by Tricycle Press an imprint of Random House Children's Books.


HOW DALIA PUT A BIG YELLOW COMFORTER INSIDE A TINY BLUE BOX honors my grandmother Sarah Witkin who sold her jewelry to help the poor and made an arrangment with her grocer to feed several families in her old neighborhood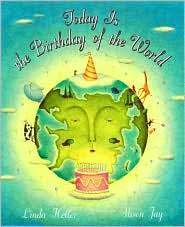 I wrote TODAY IS THE BIRTHDAY OF THE WORLD because I want every child to know that his or her special gift-be it for music, art, humor, kindness, listening, laughing, snuggling and so on-is exactly what we need in this world.
Today is a special day: the birthday of the world, when God and all God's creatures celebrate the beauty of life. As God asks each dear creature in turn whether it has been the best that it can be, this simple affirmation of life and goodness applauds the contribution that each and every one of us— from the mightiest elephant to the smallest child— can make. The whimsical animals in Alison Jay's perfectly composed crackled paintings will make this a favorite book on the family shelf.

"God is the voice in this whimsical picture book that imagines a celebration of the world's birthday. In an affectionate address to each animal, from a giraffe to a cow, God points out everyone's unique gifts and the ways that each contributes to the world's well-being, whether it is the bee who spreads pollen, the cow who provides milk to feed children, or the tiny worm: "Did you tunnel about, / Happy that I'd chosen you to bring rain underground?" God's final words are aimed at a child: "Did you laugh and have fun, / Happy that I'd chosen you to lift the world's spirit?" The loving words, organized into rhymed couplets that scan easily, partner well with the glowing, colorful illustrations that show a smiling Earth populated with fancifully oversized animals. Shifts in scale and perspectives, which move from intimate close-ups to expansive vistas, add to the visual playfulness. Together, the text and art create an inspirational, whimsical offering that emphasizes kindness, individual purpose, and the interconnections among all beings." ALA Booklist

"Creatures large and small-from a bee to an elephant-"pass before God" in this picture book with gentle ecological and moral overtones. One by one, God questions each animal about its actions during the previous year. To the giraffe, "Did you eat the highest leaves on the tree,/ Happy that I'd chosen you to make a path for the sun?"; to the cow, "Did you give your milk each day,/ Happy that I'd chosen you to feed so many children?" Extra spreads are devoted to a child who plants seeds, creates a painting, shares toys and plays ("This year, little child, my dear little child,/ Were you the best little child that you could be?" God asks). Heller's (The Castle on Hester Street) repeating form lends the soothing tone of a lullaby, well-matched by Jay's (Welcome to the Zoo!) bucolic scenes, their crackled surfaces playing up the feeling that animals have carried out their respective duties over the course of ages. Readers will be left feeling connected to the larger world, as one of the "dear little helpers" God praises." Publisher's Weekly

"Linda Heller's story is sweet and gentle, with an inspiring message perfect for a celebration of Earth Day. Alison Jay's illustrations, as usual, tie the book together with their colorful, muralistic style. Don't miss this lovely springtime tale to share with your little reader!"
Hooray 4 Books.